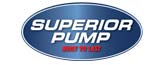 The Superior Submersible Pump 1/5 HP Offers Exceptional Power!
The Superior Pump 1/5 HP Submersible Thermoplastic Utility Pump offers exceptional power in a small, durable frame. This pump is able to pump 26 gallons a minute up to 25 feet of vertical height. This fully submersible pump can easily fit inside a 6 inch opening.
Designed to drain standing water from any environment, the Superior Submersible Pump is ideal for flooded basements, farm use, draining standing water from swimming pools, fountains, flooded basements, typical residential or commercial water transfer applications, and will pump down to a quarter inch.
The Superior Submersible Pump features a continuous-duty, split capacitor motor for optimal performance. Thermally protected, the high-efficiency, 3.6 Amp, 1/5 HP motor delivers the power necessary for any tough job.
Durable thermoplastic construction ensures this submersible pump can be used time and again without corroding. Water intakes on the side and bottom of the pump allow for continuous pumping with clog-resistant suction. The pump features a 10 ft., replaceable, waterproof power cord and is equipped with a large 1-1/4 in. male iron pipe discharge thread for high capacity pumping. A 3/4 in. garden hose adapter is also included. UL/CUL listed and CSA certified and backed by a one-year limited warranty.
Features:
Tough thermoplastic construction
1-1/4 " NPT discharge
Sleek design allows pump to fit in a 6″ opening
Clog resistant impeller
3/4″ garden hose adapter included
Can be used as a sump pump by adding a float switch
1/5 HP 120-Volt AC (3.6 Amp)
Built in thermal overload protection for safety
Permanent split capacitor continuous duty motor