protect your pool with a safety cover
Keep your family, friends, and pets safe this winter with a Safety Cover. A Safety Cover is the easiest, safest, and most economical choice over time. It makes closing your pool a breeze. Our covers are made in Canada with 'safety first' in mind. Manufactured with lightweight, BioShade MeshTM material, our Covers offer a user-friendly design that's easy to handle, use, and store. The simple anchoring system lets you take your cover on or off with ease using the included installation bar.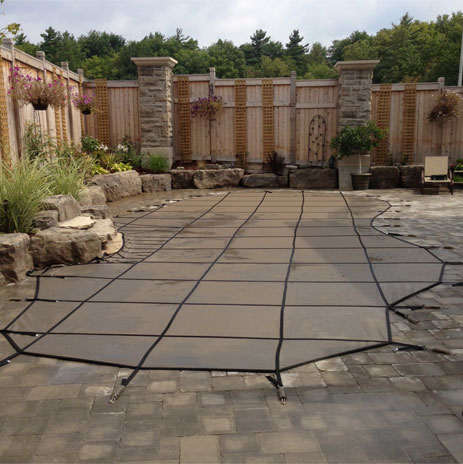 What's Included With Your Safety Cover?
Your new Safety Cover comes with a box of hardware that will be used during installation. The items included in these boxes are specific to each pool owners unique shape and specs and include:
Custom measurement to provide the best possible fit for your pool
Spring loaded anchors
Installation bar
Allan key with handle
Ability to cover pools with jump rocks, stone waterfalls, sheer descent waterfalls, and almost any other feature
Available in four great colours - Tan, Grey, Green & Blue
Learn More about Safety Covers