Towel Bar
Hot Tub Accessories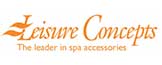 Conveniently Keeping Towels Close, Clean & Dry!
Forgetting your towel after you've had a nice, relaxing soak in your hot tub can completely change your mood. It won't happen again, thanks to the Towel Bar from Leisure Concepts. Peace of mind is only six screws away with this easy to mount installation bracket. The bar can be folded flat against your hot tubs shell, then when you're ready to use it, simply pull it up and you have a convenient holder just a few inches away. Ideal for those winter nights when you desperately need hot water therapy. Dry off with ease thanks to this easy to use and conveniently placed holder.
Features:
Folds Flat or opens away from Spa to Keep towels dry
Easy Installation
Dimensions: 16″ length
Sale Price
$49
Regular Price - $57.99
SPA-TOWELBAR
** Prices reflect in-store pick up only. Taxes extra.