PharmaSpa Scents
Hot Tub Accessories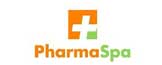 PharamSpa; Therapeutic Fragrances for A More Relaxing Experience!
Take your hot tub experience to the next level with some incredible fragrances that not only smell incredible, but also help to provide a completely relaxing and soothing aromatic soaking experience. Each PharmaSpa product provides unique benefits that have to be experienced. Whether you're looking to open your nasal passages, relieve tired and sore muscles, sleep better, or even boost your energy levels – you'll what you're looking for in one of these scents.
All PharmaSpa products are available in Liquid (237 Ml. Bottles) or Crystal (385 Gr. Bottle) form.
Fragrances:
Eucalyptus – recommended for people with respiratory issues, such as head cold and flu, also cooling, refreshing and stimulating
Tiger Balm – recommended for people with muscular aches, sprains, and helps boost circulation
Lavandula – recommended for people with sleep deprivation, helps to relax and has a soothing and calming effect
Articul-R – recommended for people with articular stiffness, helps to relax and sleep better
Phytomix – recommended for people who wish to improve their circulation and contains natural antiseptics
Energy – recommended for people who wish to enhance mental and physical performance, helps manage stress and boost energy levels
Waterfalls – is energizing, it helps refresh a tired mind and boosts circulation
Quiet Sea – is soothing with natural antioxidant properties
Evening Tide – is relaxing with exfoliating properties
Escape – is calming with its moisturizing and anti-aging benefits
Sensual River – is inspiring, it helps attract and retain moisture and reduce appearance of aging skin
Sunset Mist – is alleviating with relaxing and rejuvenating effects on the skin
CHM-PS0125001
** Prices reflect in-store pick up only. Taxes extra.